It was truly a night of celebration as Scotiabank emerged the 2014 Champion Employer of the Year at the fifth edition of the Employers Consultative Association's (ECA) Champion Employer Awards and Gala Dinner (CEYA), which was held at the Hyatt Regency on Thursday June 25, 2015.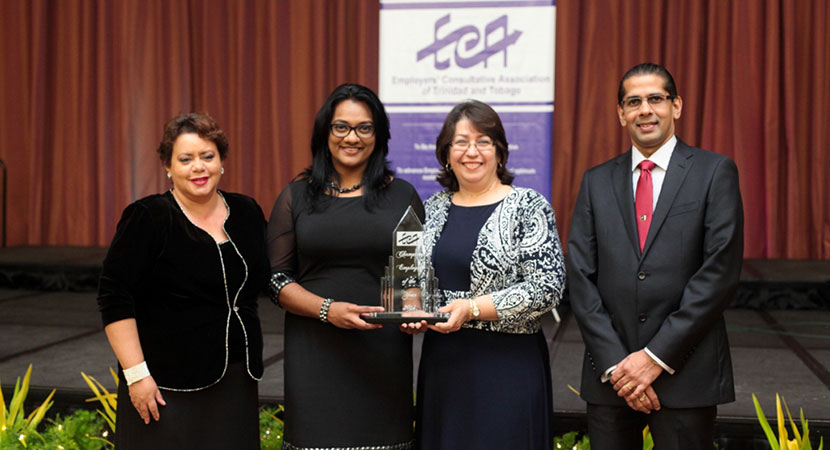 The CEYA is a dynamic and rigorous competition which seeks to recognise and reward employers in Trinidad and Tobago who have demonstrated excellence in business administration and management, who practice progressive and proactive human resource management and employee relations, and who support the communities in which they coperate.
Executive Director of the ECA, Linda Besson encouraged employers to accept the challenge of participating in the  competition as she explained its history and purpose. "In addition to awarding outstanding employers by recognising their holistic approach to business excellence, the application and interview process serves as a form of self-assessment for companies as an audit is conducted in five key areas: Employment Creation, Human Resource Management, Industrial Relations, Occupation Safety and Health, and Corporate Social Responsibility."

After coming close in 2008, Scotiabank now joins an elite list of past winners and were able to top a formidable list of participants which included Republic Bank Limited and Unit Trust Corporation, who came in second and third place respectively. DHL Express won the competition's first ever award for Excellence in Industrial Relations.
Photo Gallery <here>
For further information, kindly contact:
Antonette Brotherson-Brusco
Team Leader Public Relations and Communications
Telephone: 675-9388 Ext 226
E-mail: This email address is being protected from spambots. You need JavaScript enabled to view it.