The Employers Consultative Association of Trinidad and Tobago (ECA), represented by CEO, Joycelyn Francois-Opadeyi, recently returned from Turin, Italy as a successful participant in the International Labour Organisation's (ILO) management training on Effective Business Member Organisations (BMO).
This intensive 10-week programme sponsored by the International Training Centre of the ILO, culminated with a week of face-to-face sessions in Italy following a 40-hour E-learning module attended by 36 participants from 20 countries.
The involvement of the ECA in this very important programme stems from its position as the third arm of the national Tripartite mechanism and the only ILO-recognised Employer Organisation in Trinidad and Tobago. This mechanism is the core of Convention 144 of the ILO Treaty of which Trinidad and Tobago is a signatory, and is therefore afforded a seat on the International Labour Conference of the ILO. This representation comprises two seats of government and one each of the Employer and labour Union which is most representative of its members.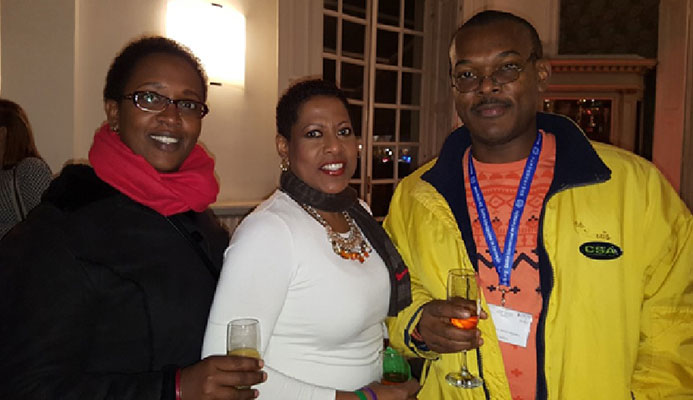 Representative of Business Member Organisations L-R: Natascha Kaneza (Rwanda), Joycelyn Francois-Opadeyi (Trinidad and Tobago) and Thompson Akpabio (Nigeria)
The core of the programme focused on the theoretical and practical issues relevant to the effective functioning of BMO's in each of its core areas, which include lobbying and advocacy, membership management, corporate governance, social dialogue, creating an effective business environment, corporate social responsibility and providing relevant business services. Examples of good practice were articulated by a variety of presenters including Phil O'Reilly, former Chief Executive Officer of the New Zealand Employers Federation and Rose Anang, Senior ILO Specialist. Participants were also exposed to tips on building a resilient BMO shared by Stephen Yee of the Singapore National Employers Federation.
Mrs. Francois-Opadeyi commented, "Lobbying and advocacy, especially in this time of structural and economic adjustment in T&T, cuts to the heart of the ECA's mission and mandate. The essence of the ECA's business is Industrial Relations and Employment and its core resources and competencies therefore lie in this field. Even as the company celebrates its 56th anniversary in 2016, the knowledge gained from this exercise and the desire to lead by example has propelled it towards demonstrating a renewed vigour for realising socio-economic development and improvement in T&T."